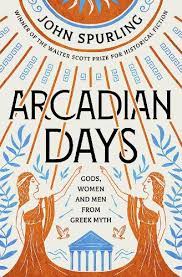 Arcadian Days
If you want a modern take on the myths that stays true to the original tales, you won't go wrong with these.
Lifelong classicist and one-time inhabitant of Arcadia (yes, really - the province of the Peloponnese, that is!), historical novelist and playwright John Spurling is - as Homer famously called Odysseus - 'polutropos', a man of many turns. Winner of the Walter Scott Prize for historical fiction, his last two books have 'Arcadian' in their titles - first Arcadian Nights, then Arcadian Days - though actually they both range far far beyond Peloponnesian Arcadia, and indeed far beyond even much-travailed Odysseus. Gods, heroes, monsters, women, men from Greek myth - all human (and inhuman) life is here, beautifully retold, and beautifully produced by the historic Duckworth imprint. As travel to today's Greece opens up once again, these are the companions to have beside one on the plane, train or boat.
'I loved Arcadian Days. John Spurling has a gift for taking the complex details of Greek mythology and making it accessible to all. His humour brings a lightness to even some of the darkest tales and keeps you wanting to read more. John Spurling in his Arcadian tales has done for Greek mythology what Neil Gaiman did for Norse mythology.'
In Arcadian Days, John Spurling revisits many of these crucial Greek myths, bringing them to new life.
From the terrace of his house in Arcadia on the coast of the Peloponnese, Spurling re-imagines the stories of Agamemnon, Theseus, Herakles, Perseus and the god Apollo.
Here also are the Medusa, Medea Phaedra, the Minotaur and the goddess Athene.
Where details of certain stories have been lost to time, he's infused them with his own; where discrepancy and obscurity cloud the narratives, Spurling has added scene, dialogue and context, while always staying true to the spirit of the original myth.
The result is a vibrant collection of gripping and sometimes grisly stories made fresh again for our time.