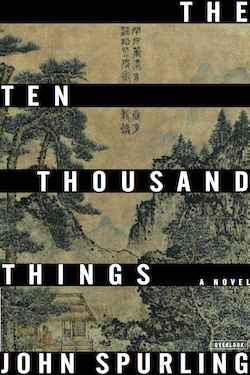 The Ten Thousand Things
John Spurling's new novel, winner of the Walter Scott Prize 2015
'John Spurling's enchanting "The Ten Thousand Things" takes place in 14th-century China, during the final years of the Mongol-ruled Yuan Dynasty. In that time, as the emperor's power dwindled, China was plunged into a protracted civil war between competing bandits and warlords'
'Spurling's spell-binding new novel is the story of Wang Meng...one of the era's four great masters of painting....Though there is drama and excitement aplenty here, what really makes this book special is the way it conjures up the physical world and the mind's reaction to it with writing as precise and delicate as the real-life Wang's paintings. It has the sort of sensual prose that makes the reader purr with delight and is surely destined to be one of the books of the year'
Reviews
Extract (bookanista.com)
Wang Meng was one of the greatest Chinese landscape painters, though not recognised as such until nearly two centuries after his death. He lived in the 14th Century, working first as a minor official for the Yüan Dynasty - the government of Mongol conquerors established by Kublai Khan - later as the Magistrate of a town under the first Ming Emperor, who founded a new dynasty in 1368.
The middle years of Wang's life coincided with the terrible period of famine, flood, plague, rebellion, anarchy and civil war which finally drove the Mongols out of China. But the new Chinese emperor, whose peasant parents had died of plague and who had been a mendicant monk before becoming a bandit and then the winning warlord, soon turned into a mediaeval version of Stalin or Mao. During one of his massive purges, Wang Meng was thrown into prison. There he died of starvation in his late seventies.
The Ten Thousand Things tells Wang's story from his own point of view: his attempts through his paintings to understand and express the mysteries of nature and human destiny; his relationships with his family, friends and servants; his adventures as the reluctant strategist to a group of bandits led by a woman known as The White Tigress; and his three personal encounters with the Emperor.
Much of the novel is based on historical fact, much is invention. At its heart is the portrait of a gifted and sensitive man, in love with the beauty and tranquillity of nature and deeply involved in the friendships and politics of a highly civilised people, set against a background of foreign domination, nationalism and turmoil as one empire dissolves and another is born.