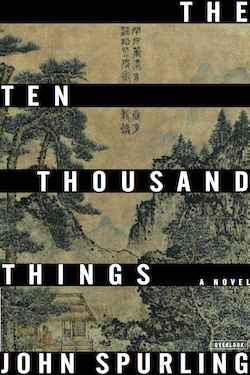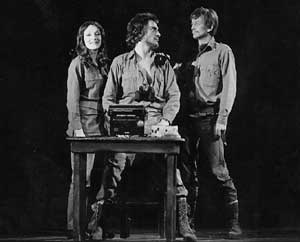 Welcome to johnspurling.com where we have made available the full text of a selection of John Spurling's plays.
More than 25 of John's plays have been performed on stage, radio and TV over the past 32 years, and this selection includes some of the best known.
These are not conventional plays. The 20th-century playwrights who have influenced me most are Pirandello and Brecht - and perhaps Shaw, because I so much wanted not to write plays like his. I wanted my plays to be more expansive, richer, more inventive, more surprising than the pinched domestic dramas which occupied most of the theatres - and even more, TV and radio - when I was young. I'm afraid they still do.
MacRune's Guevara and In the Heart of the British Museum were quite new, both in structure and content, when they were first produced 43 and 41 years ago, and they still are. A revival of Macrune off-Broadway in 2006 seemed just as innovatory to its young performers and its audiences as it did in the original National Theatre production in 1969.
Death of Captain Doughty was written for Granada TV in 1973 in an attempt to challenge the standard realism of TV plays, but it's hard to outwit the camera's literalism, so I retouched it for the stage. This version worked very well in a production in Brixton Prison in the 1990s.
The two later plays, Racine at the Girls' School and King Arthur in Avalon are less experimental in form, except that nearly all the parts, male and female, were intended to be played by teenage girls. But neither is a conventional play. Racine is based on the structure of Racine's own plays, observing the three classical unities of time, place and action, while Arthur presents the myth of King Arthur through the imagination of the Pre-Raphaelite painter Edward Burne-Jones.
Read the plays, if you will, and see what you think of them. And if you're involved with a theatre or theatre company (professional or amateur), why not see how they work in practice? You could do a private or public reading free of charge, but if you decide to perform the play, please contact my agent and get the licence for a small fee. They are easy to read, not quite so easy to direct, but in the right hands they work a treat.
In due course I shall put some more of my scripts up on this site, including the biggest and most ambitious, The British Empire trilogy, Coming Ashore in Guadeloupe - a panorama of the discovery of America - and possibly Heresy, the story of how the brilliant Alexandrian philosopher and mathematician Hypatia was murdered by Christian fanatics, stirred up by their ruthless archbishop, St Cyril.